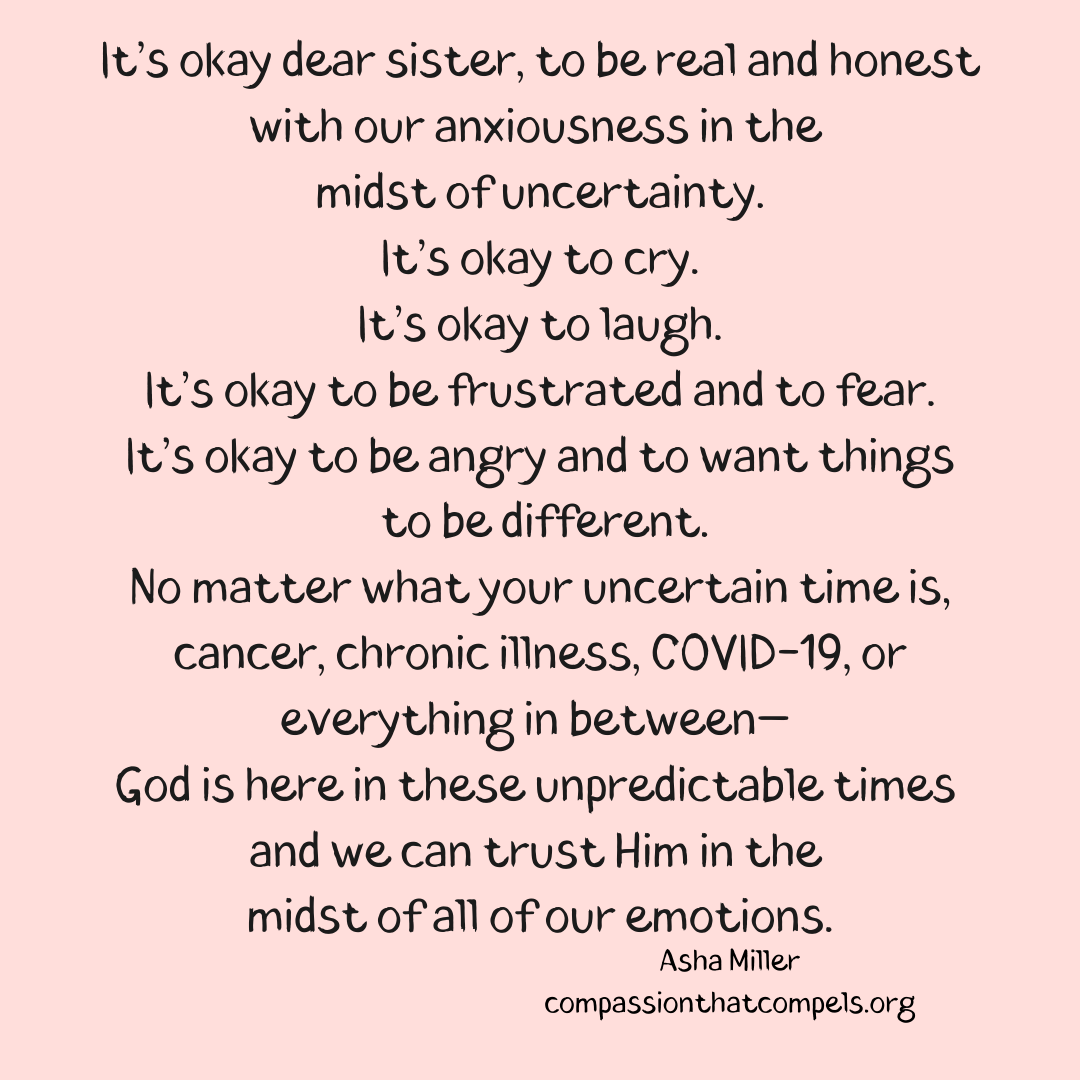 How do I show myself self compassion in the midst of uncertainty?
I honestly can't tell you when I first heard the word, 'Coronavirus' or 'COVID-19'. Unlike when I was diagnosed with aggressive late stage breast cancer two years ago, this news seemed far out there at first. I had just had the flu for the first time in my life in January of this year, just two days before I was supposed to have my explant surgery to remove the recalled implants that was wrecking havoc in my mind and body. Going 'flat' had always been a traumatizing thought to me. How do I look at myself in the mirror and recognize myself after so many, many changes? How do I love my body and speak kindly to it, when I feel at war with it?
Uncertainty. We are all slapped with it at one time or another. Dealing with the recent pandemic with COVID-19 has broken open old wounds that were slowly healing. How do I show myself self compassion in the midst of uncertainty? Here are two ways I've been learning to show that kind of compassion to myself.
1) Self compassion means: It's okay to not be okay. Sometimes as women we put so much pressure on ourselves to be okay, to look okay, act okay, sound okay, feel okay. It's exhausting! As we read the Bible we become acquainted with a range of emotions shown by the many writers. The Psalms is my favorite book where I find examples of this outpouring of emotion to God. We often read of David pouring out his heart in the horrible and the good times in his life. He questions God and praises him in the same sentence!
Psalm 10:1 he says, "Why, Lord, do you stand far off? Why do you hide yourself in times of trouble?" And then later in verse 14 he declares, "But you, God, see the trouble of the afflicted; you consider their grief and take it in hand."
David is such an example of self compassion. We could learn from David and choose to lean into the hard times and give ourselves grace to not be okay and allow God to hold us. We could find joy even in the confusion and recognize that God is present here too. It's okay dear sister, to be real and honest with our anxiousness in the midst of uncertainty. It's ok to cry. It's ok to laugh. It's ok to be frustrated and to fear. It's ok to be angry and to want things to be different. No matter what your uncertain time is, cancer, chronic illness, COVID-19, or everything in between - God is here in these unpredictable times and we can trust Him in the midst of all of our emotions.
2) Self compassion means: it's okay to not be busy. I will be the first to admit that I'm a recovering 'doer'. I love to do ALL the things, ALL the time. Helping and motivating others is a big part of my job as a fitness instructor and my personality. I don't know about you, but resting is extremely difficult for me. Cancer brought me to my knees and forced me to be still. I fought being at rest over and over until my body couldn't take anymore. After multiple rounds of chemo, a double mastectomy with expanders, and 30 rounds of radiation in a matter of 9 months, I was a shell of the woman I had been. My soul said, 'rest' and my body answered, 'yes'.
When times of uncertainty come our sense of control is shaken and it can cause us to be hard on ourselves for not doing more. Showing ourselves compassion during a cancer diagnosis or even through a pandemic like the one we are currently facing, is crucial. We can't be everything for everyone, all the time. Find realistic ways to help others and yourself during times of uncertainty. Send a note to an elderly relative or neighbor. Take an online fitness class. Create moments to just take deep breaths. Fuel your body with lots of water and good nutritious food. Give yourself a break if you don't feel positive all the time. Take the 20 seconds that you're washing your hands to pray for the many that are hurting during this time.
With COVID-19 sweeping through our world, we are ALL being forced to rest and stay within the four walls of our homes. Learning to be at rest is hard for many of us in a world of constant busyness. Showing ourselves self compassion in this moment is critical. Allowing time to sit in God's presence, to connect with family and friends via phone or FaceTime, or practice our self care routines unapologetically can be healing during such an unsettling time.
Be okay with not being okay sister and be okay with the practice of stillness. Show yourself compassion with the way you talk to yourself during this uncertain season. Give grace to your heart and to others. Lean into the hard and allow yourself to feel the feelings, all of them. Don't camp out there with those feelings though, but rather give them to your Heavenly Father and allow Him to hold you and bring healing to the deepest parts of you in this time. We are all in this together! You are loved!
---
Asha is a pilot's wife, mother of two, and a breast cancer thriver. Battling through over 11 surgeries, Asha has remained determined to fight back in the war against her body.
In 2016 Asha started a journey of wellness and fitness in pursuit of becoming her best self. She fell in love with the strength it brought to every aspect of her life and continues this lifestyle today while teaching others to live their best lives. An unexpected breast cancer diagnosis in September 2017 did not stop Asha from pursuing mental, physical, or spiritual healing. Two years into her cancer journey Asha is known for her devotion to her family, steadfast faith, positive presence on Instagram, love of health and fitness, activist voice, and organic living.