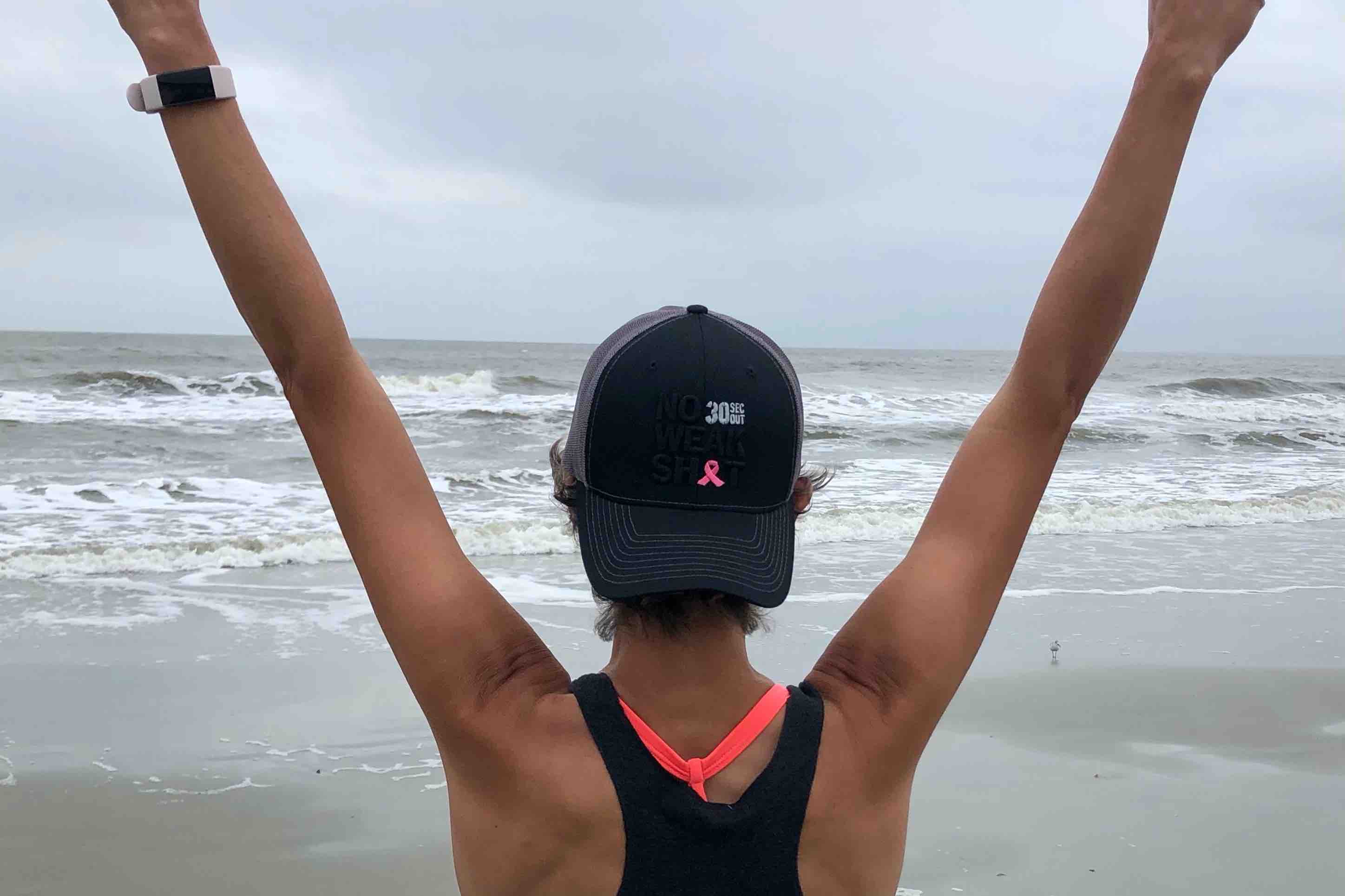 For I know the plans I have for you, declares the Lord, plans to prosper you and not to harm you. Plans to give you hope and a future. -Jeremiah 29:11
One year ago today, life as I knew it forever changed. At moments time seems to operate in light-speed; other moments, it's as if time stands still.
Testimony's are meant to be shared, right? That's a little scary, because sharing means being vulnerable, and being vulnerable means reliving some painful things. But if my story touches or can help even just one person, it is worth telling...
•July 3, 2019 - 39 years old - "Your mammogram & ultrasound look fine Amanda - enjoy your long 4th of July weekend!
•A few weeks later -> breast pain, a lump visible to the eye and touch, all following that overly aggressive mammogram I had on July 3rd -> doctor says "this isn't how breast cancer works, so you don't need to worry; your scans were fine - we think she caused a cyst to rupture." (I was irritated with that tech, but what I didn't know was that her inexperience was a blessing in disguise.)
•Fast forward a couple months (of taking NSAIDS and meloxicam to decrease the "hematoma" I supposedly had from the "ruptured cyst"), I've worn the doctor out with phone calls -> doctor says "this has gone on long enough, we're sending you to the Breast Center for a second opinion."
•October 11, 2019 - ultrasound shows two suspicious masses in the right breast -> reason for concern.
•October 14, 2019 - biopsy of both suspicious masses.
•October 16, 2019 - (exactly one month after my 40th birthday) I don't think my heart could have beat any harder or any faster without breaking through my chest when UT Medical Centers phone number appeared on my phone. In some form of the words (because my mind went numb and my hands shook so bad, I could hardly write down what she was saying) I heard her say "It's breast cancer. We need you to come in for an MRI at 8:00 tonight." Why did I have to be at work when I received this phone call??
•October 17, 2019 - the MRI detected what was thought to be a cyst in the left breast -> back for another ultrasound that afternoon. (Praise Jesus it was just a cyst.)
•October 18, 2019 - Met with my surgical oncologist for the first time (a 3-hour appt), where we learned that I had been diagnosed with Ductal Carcinoma In-Sity (DCIS) and minimal Invasion Ductal Carcinoma (IDC). ER & PR negative. My HER-2 results had not come back yet. But my markers for aggressiveness were "nearly 100%". Presumed Stage 2 or 3.
The following week, my HER-2 results were in -> NEGATIVE. I was Triple Negative. Talk about kicking a girl in the gut while she's down.
•November 6, 2019 - Bilateral mastectomy with immediate reconstruction, followed by weekly appointments with my reconstructive surgeon -> tissue expander fills and drain tubes pulled weekly for approx. 5 weeks.
***Time to tell you about a miracle -> my surgical pathology determined I was Stage T1C - that's STAGE 1!!!! Clear margins and clear lymph nodes! Praise HIM!!!
•December 6, 2019 - Port placement.
•December 19, 2019 - 1st round of chemo. (8 total, every other week) -> first 4 treatments were a cocktail = Adriamycin aka "the red devil" and Cytoxin, followed by 4 Taxol treatments.
•March 26, 2020 - I rang the bell!!! A sound I will never forget.
•June 19, 2020 - Port removal and Phase 2 of reconstruction. So happy to say bye to those tissue expanders. But it was bittersweet saying bye to the port. Funny the things you become attached to.
Sounds tough, huh?!. It was. If you know me well, you know that I almost always smile. And it's my nature to seek joy. But, while I'm being vulnerable, I will tell you that the smile you see in so many of my pictures, hid a lot of pain. Physical, mental and emotional pain.
Looking back, I wouldn't trade that pain. I know, you think I'm crazy (and likely those chemo drugs did mess with my brain a little). But this journey has brought so much more than nausea, fatigue, hair loss, pain and tears. My journey has drawn me closer to God, it has confirmed the power and strength of the Holy Spirit within me (because it was His strength, not mine), it has reminded me that the blood of Christ flows through my veins because I am a child of God (and HIS blood is greater than any "red devil," as a dear friend so gently and often reminded me). My journey has taught me that I'm never alone and I don't have to carry the weight of my burdens alone. It has reestablished togetherness and connected me to so many wonderful women waking through those same deep waters. My journey has assured me that it is okay to cry out and to ask God for big things.
In the diagnosis, surgery and treatment season season of my journey, I continuously heard God say Be Still. And now as I continue to heal, not just physically, but mental and emotional healing; I continuously hear God say Trust Me, I am Faithful.
My hope and prayer is that this chapter in my story will encourage others to: •Seek God. He is SO good. He can and He does do great things! Remember faith precedes a miracle and there is great power in prayer. Trust HIM. And if you need more faith, ask Him for it (I sure did). He gives generously to us, when we humbly ask. •Be your own advocate. Doctors are human beings --> They make mistakes. Just because something isn't textbook, doesn't mean it isn't what it is. •Never lose HOPE! Claim HIS power and never stop fighting!!!
BEAUTIFUL Amanda is a Breast Cancer OVERCOMER who together with her amazing husband, have learned to embrace every moment! You can find her on IG @jasutton581