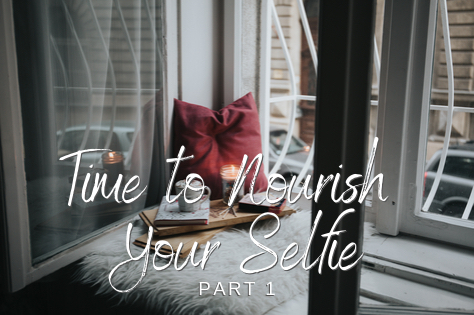 "Self-care is not selfish. You cannot serve from an empty vessel." - Eleanor Brown
As an intentional, busy woman, I respond well to short, defined goals. Usually these goals are for work or regarding a project at our house. If you're like me, self-care just doesn't get much goal-setting attention beyond painting my toenails and an occasional splurge on something I really want.
I hope you will jump in on this Nourish Your Selfie challenge that guides you through 5 days of intentional, short, defined steps and learn along with me how we can do just that- nourish ourselves - with a result of being a happier, life-giving person. Each day will also include a picture prompt and a take action journaling prompt. We'll cover Days 1 & 2 in this post and the remaining days in next week's post. See my note at the end of this post if you would like a workbook to keep your notes and progress in. 
Day 1: We're going to start this challenge off with the theme of self-care.
Self-care is a significant puzzle piece in your health journey. Once we can get over the hump of feeling guilty for deeply focusing on ourselves, our eyes then open up. We then see -- truly -- that we can better care for others when we're nourished ourselves. Self-care includes your daily rituals and practices that nourish your mind, body, and soul. What's something you love to enjoy and feel nourished and rejuvenated after doing?
PICTURE PROMPT: Today take a picture of how you are meeting your needs - photo at the gym, taking a walk, yoga, relaxing, reading a book, getting a massage, coffee with a friend. How are you meeting your self-care needs today?
TAKE ACTION JOURNALING PROMPT: How are you taking care of yourself daily? Where do you need to re-establish routines? What do you want to include? What do you need?
Welcome to Day 2!
"You are imperfect, permanently, and inevitably flawed. And you are beautiful." ― Amy Bloom
Today is all about self-acceptance.
When we genuinely love and accept ourselves, we let go of things that don't serve us easier, we forgive more and understand other perspectives better, and in return, we love more. How can you be more accepting of what you deem as flaws? I know this can be uncomfortable but think about what flaws you feel that you struggle with and let yourself address those in private. Can you look at a picture of yourself and not be critical?
Today, I want you to write yourself a letter. Address those flaws that are holding you back from truly loving yourself. Get real and raw with how they influence your thoughts and actions. Once you get those feelings out, practice kindness with yourself. Look at yourself through a wholly compassionate and forgiving lens, just like you'd treat a close friend.
PHOTO PROMPT: Take a snap of your letter once you finish it. You don't have to make it visible (unless you want to share) -- or take a shameless selfie of yourself once you complete your letter.
TAKE ACTION JOURNAL PROMPT: What do you need to accept about yourself? What situations do you need to accept? What needs to happen for you to do this? How can you show gratitude towards yourself and your circumstances?
Look for Days 3, 4 & 5 in next week's post.
Gwen Plauche has a heart for helping women of all ages and stages with their faith-based lives. She loves learning to cook and playing with her precious granddaughter, Glo. She lives in Tennessee with her hubby. Visit her web site, AskMommaGwen.com to download the free Nourish Your Selfie Workbook.