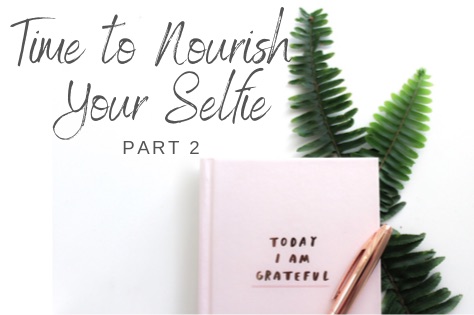 "It is confidence in our bodies, minds, and spirits that allows us to keep looking for new adventures." - Oprah
Welcome to Day 3! Self-confidence is the most attractive trait you can have. How can anyone see how great you are if you aren't able to see it yourself? I want you to only say good things about yourself today and to rock the heck out of your self-confidence today. Do what it takes today to FEEL your best. Wear your favorite outfit, try a different hairstyle, put that bold red lipstick on. Take a picture and post it of you in your most confident self. Whatever it is that makes you feel confident, show us!
PHOTO PROMPT: Show us your most confident self today -- are you choosing your favorite outfit to feel on top of the world? What is it that makes you feel confident?
TAKE ACTION JOURNAL PROMPT: How are you FEELING today?
Take 5 mins to reflect on what self-confidence means to you. What does it look like? What does it feel like in your body and mind?
Day 4: "Your vision will become clear only when you can look into your own heart." - Carl Jung
Growth and change come from self-reflection, so today is all about being brave enough to go within. We become so preoccupied with what's happening outside of ourselves that we neglect what's going on within. It's so important to question why you do the things you do, why you think the thoughts you think and why you have the beliefs you do. Things get so much easier to change when you have the awareness. I have found that self-reflection is easiest in a peaceful, comfortable setting. This is usually in the space I created in my home or out in nature. I understand weather may be an issue but try and take a few minutes to find the beauty around you and set some quiet time to breathe and reflect.
PHOTO PROMPT: Today I would like you to post a picture of yourself in your ideal self-reflecting setting. Is it on a comfy chair in your home, in the park, as the sun is setting, by a lake, under a tree?
TAKE ACTION JOURNAL PROMPT: Close your eyes and do a body scan. What feelings are coming up for you, and where are you feeling this? Make a note of what's coming up. Your job is to explore and be aware. You are the witness, not the criticizer today.
You made it to Day 5! Your last day is all about self-love and gratitude.
"There are only two ways to live your life. One is as though nothing is a miracle. The other is as though everything is a miracle." - Albert Einstein
Gratitude is about being grateful for the body and mind that you were blessed with. We are living proof that miracles exist. Our bodies and minds are so unique and work in pretty astonishing ways. How often do you show yourself love and gratitude? It's important to show ourselves the same love, respect, trust, and acceptance we do to the ones we love. To be able to say, 'I love you' one must first know how to say the 'I.' Remember that how you treat yourself is how you're inviting the world to treat you. If you're looking to be loved, accepted, and respected -- start with yourself. Start today.
PHOTO PROMPT: Show us something you are grateful for about yourself or in your life.
TAKE ACTION JOURNAL PROMPT: How can you show your gratitude? A small step is to start each day by listing at least 5 things you are grateful for. It's amazing how that small thing can change how the rest of your day goes.
I hope you enjoyed this challenge. I LOVED putting it together for you. From here on out, all I ask is that you stay aware of your needs and fulfill them first. Just like the instructions we are accustomed to hearing from the flight attendants – be sure to secure your own oxygen, before you attempt to help someone else with theirs. You are important. Show yourself some love and show it often!!
What was your biggest takeaway from the challenge?
Look for Days 1 & 2 in last week's post.
Gwen Plauche has a heart for helping women of all ages and stages with their faith-based lives. She loves learning to cook and playing with her precious granddaughter, Glo. She lives in Tennessee with her hubby. Visit her web site, AskMommaGwen.com to download the free Nourish Your Selfie Workbook.